Juchitán & Tehuantepec part two
We're wandering around in Juchitán trying to find somewhere to eat, at some place where we don't have to fear food poisoning. But after a while we make some discoveries. Breakfast is at "Inter", a type of fairly modern café that serves some dishes and is quite popular in the mornings. In Mexico it seems no one eats the morning meal at home. All joints serving breakfast are full. 
The ever present dinner problem also gets a solution, at least for one evening. We find "Jardin" in a cosy little courtyard where we just pop in for a beer in the hot afternoon. Here we meet Carlos and his wife Martha who are not just Jardin's owners but also musicians and singers who have toured the world performing Mexican folk tunes. We return later for dinner and Carlos and Martha do a mini-concert just for us. And the restaurant's customers.
It's a warm night and we're just a little drowsy after dinner and the lovely music. When suddenly Carlos stops and stands up, and everybody else does too, knocking chairs backwards. They have heard a fearful sound that they recognize, the rumble of an earthquake. -Everybody stand in the middle, away from the buildings! Carlos shouts. But everything is still, it was just a minor tremor this time. -It was worse in 2017 Carlos says. That quake lasted three minutes and almost all old buildings collapsed.
This was probably the only time in Mexico that we felt insecure. Perhaps a litte surprising since Mexico is a fairly violent society plagued by  drug wars. Though tourists almost never notice it, with the exception of heavy police presence in every city. Armed police drive around even in small towns like Juchitán. It doesn't necessarily make you feel safer, knowing that the Mexican police is one of the most corrupt in the world.
On our last night in Juchitán we follow a tip about a restaurant called "Lidxi Guendaro", just a few blocks away from our hotel. But walking there feels like suddenly crossing an invisible border. Now the streets are badly lit and almost deserted. We find the restaurant behind a locked gate so we ring a bell to be let in. There are no tourists here in Juchitán and few citizen can afford the luxury of a restaurant. So the guests are few, but the food is excellent. And a cup of mezcal after dinner makes the evening complete.
An almost impossibly straight road connects  Juchitán with its close neighbour Tehuantepec. The twin cities are roughly equally big, and as is often the case with towns that close, they don't like each other. There is a story about a military commander from T who in the 19th century helped a French invading force to capture J, and we have heard people from J call the T:s "traitors".
But, really, they are very similar. The only visible difference is their "moto-taxis". 
Our hotel in Tehuantepec is a bit of a shock. I'ts huge, probably more than a hundred rooms, but it's empty. It seems we're the only guests. The lobby bar is closed, the pool bar is deserted and the restaurant is only open a few hours in the evening. But it's clean and the garden pool is cool and fresh.
Later it turns out that we're not alone here, there's a bus travelling group staying overnight. But they eat, go to bed and are gone the next morning. So after breakfast everything is quiet and animals take over the garden.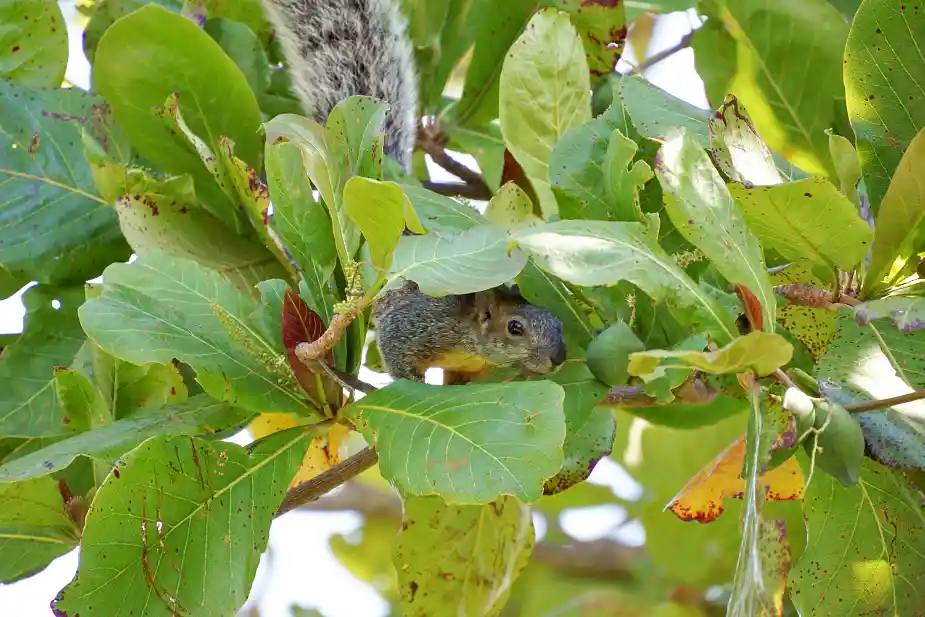 Naturally Tehuantepec also has a market, maybe a little wilder than in Juchitán. Most of the vendors are women, but here also men may nowadays be spotted as customers or as sellers or workers. The market house is too small so the stalls spread out into the surrounding streets. In one place you can see old railway tracks, remnants of a railway built in the 19th century to transport goods from the Pacific to the Atlantic ocean. Heavily used and giving income to the region it was abandoned when the Panama canal opened in 1914. 
There's an "Alameda park" here too, with walkways in a spiderweb form, although it's tiny. But its trees give some shadow so old men and women like to sit here and share the latest gossip, and swallows fly around. On one side stands the whitewashed front of the city hall, now being expanded to be more than twice the size. Odd, because the town is really small.
In Tehuantepec we have the same problem finding somewhere to eat as in Juchitan. But finally we find "La Casa de mis Abuelos" (my aunts' house) and it courtyard is a blessing. The lonely, attentative and courteous waiter sits a lot on a chair in the sun. Most of the time it's just us here.
And so we leave the small twin towns in Oaxaca, thinking that some things must have changed here on the Zapotec Isthmus, as it's called. The label "matriarchy" is not relevant today. Life in and around the markets goes on as it has always done, but hopefully the fact tat some women do good business here hopefully supports a more gender equal society. Although it's on the lower end of the scale, this part of Mexico is among the poorest, with a significant part of the population being indigenous, and according to experts we've talked to they are exposed to constant discrimination.